Latest News and Acquisitions
---
Here you will find the latest news stories
about the Asbury Park Museum
Asbury Park Museum Board Member, Tom Chesek, Passes Away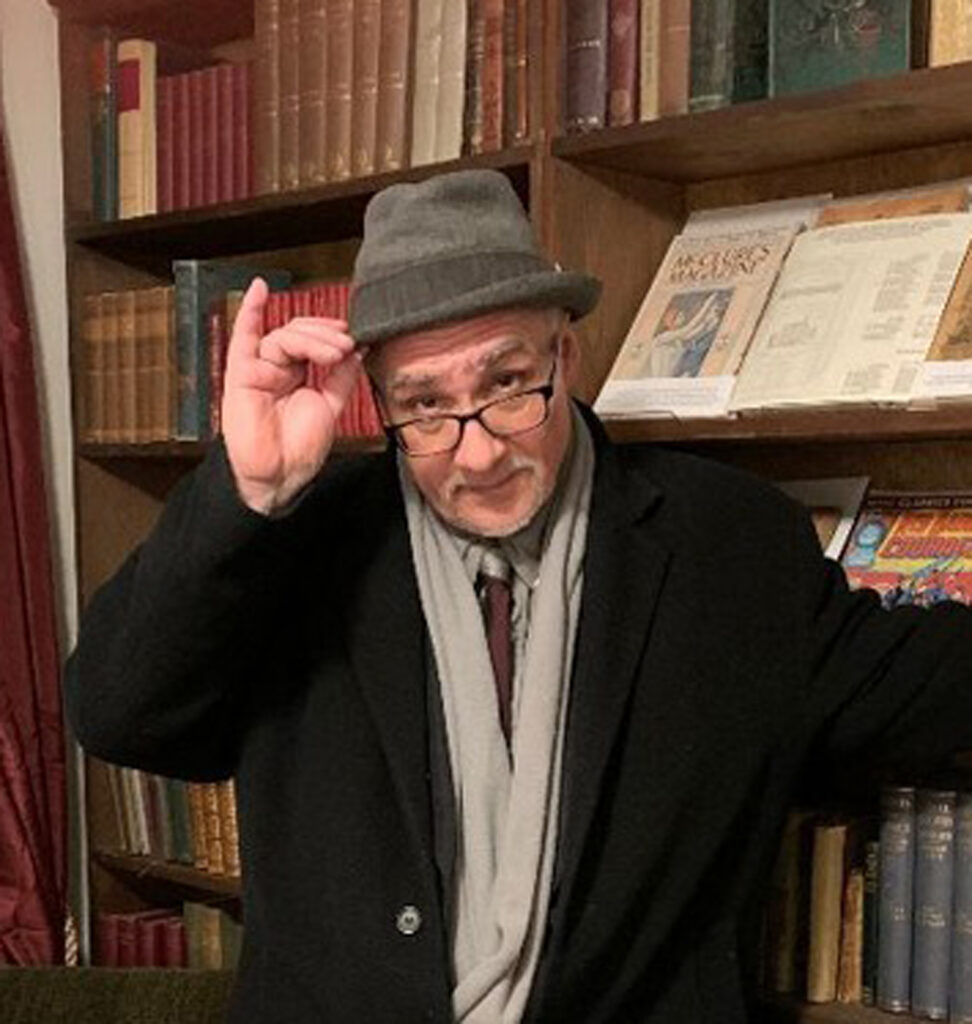 The Asbury Park Museum is deeply saddened to report the sudden passing of our close friend and colleague, Tom Chesek. Tom died in his sleep on July 4, 2023 at age 63. Tom Chesek, graciously served as a Board Member of the non-profit Asbury Park Museum and Asbury Park Historical Society. A devoted historian of Asbury Park history, Tom served as archivist for both organizations. He was a major contributor to the content and design of the Asbury Park Museum's recent exhibits at the Berkeley Oceanfront Hotel and he organized and ran the numerous Asbury Park Historical Society events at their Stephen Crane House headquarters. Among many other things, Tom was an entertainment writer for The Coaster newspaper. He was an encyclopedia of Asbury Park history, a superb writer and author. His book, "Legendary Locals of Asbury Park" is an incredible reference of virtually all aspects of Asbury Park history. Tom's passing is a huge loss to the Asbury Park community, as much of what he knew about the city's history is now lost forever. We'll all miss his knowledge and talents. Most of all, we will miss Tom as a friend.
On behalf of the Asbury Park Museum Board of Directors and Advisors,
Charlie Horner
Recent Museum Acquisitions
The Asbury Park Museum is hard at work acquiring historic artifacts for our displays. Here are some of the latest acquisitions.
Asbury Park Museum acquires silver water cooler presented to Founder James A. Bradley, 1876
The Asbury Park Museum has just made an important historical artifact acquisition in the way of a silver-plated inscribed water cooler presented to founder, James A. Bradley by his friends in the Asbury Park Social Club, at the Coleman House Hotel on July 4, 1876. The water cooler was part of a silver service that also included goblets, bowl and tray. The water cooler is of exquisite design including small figures of polar bears standing on icicles on either side. We have no idea of what ever happened to the other pieces of the set but the water cooler is the most important one, have the inscription, "Presented to Jms. A. Bradley by his Asbury Park friends, July 4, 1876." This is the earliest artifact of James Bradley in our possession and will have a prominent presence in our Museum.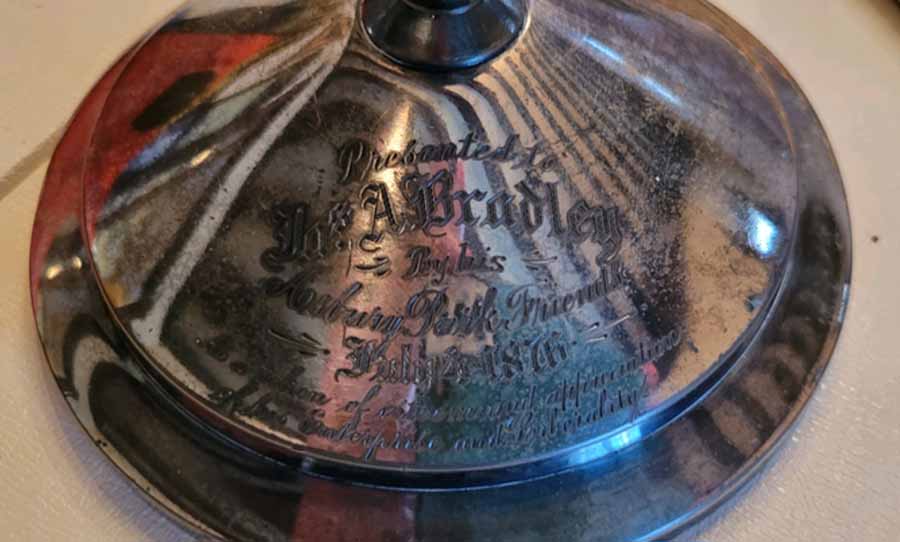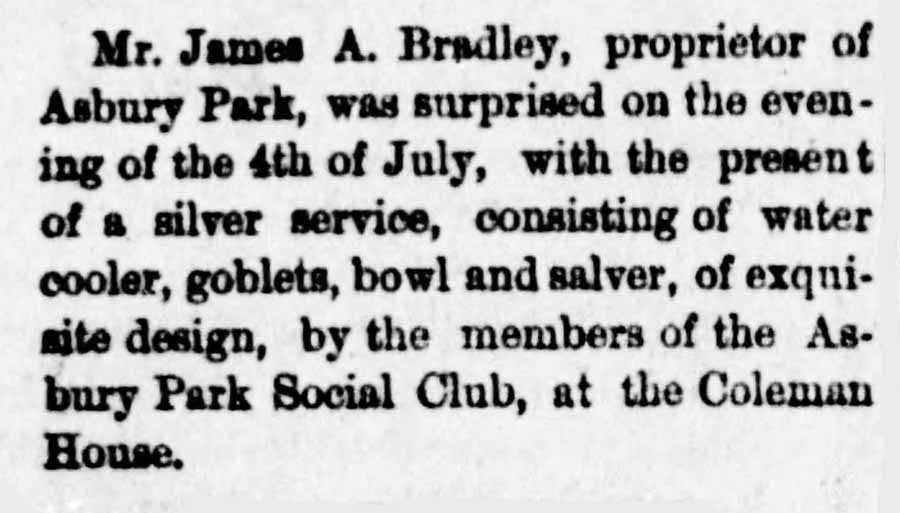 Asbury Park Museum acquires Piano belonging to the late Dee Holland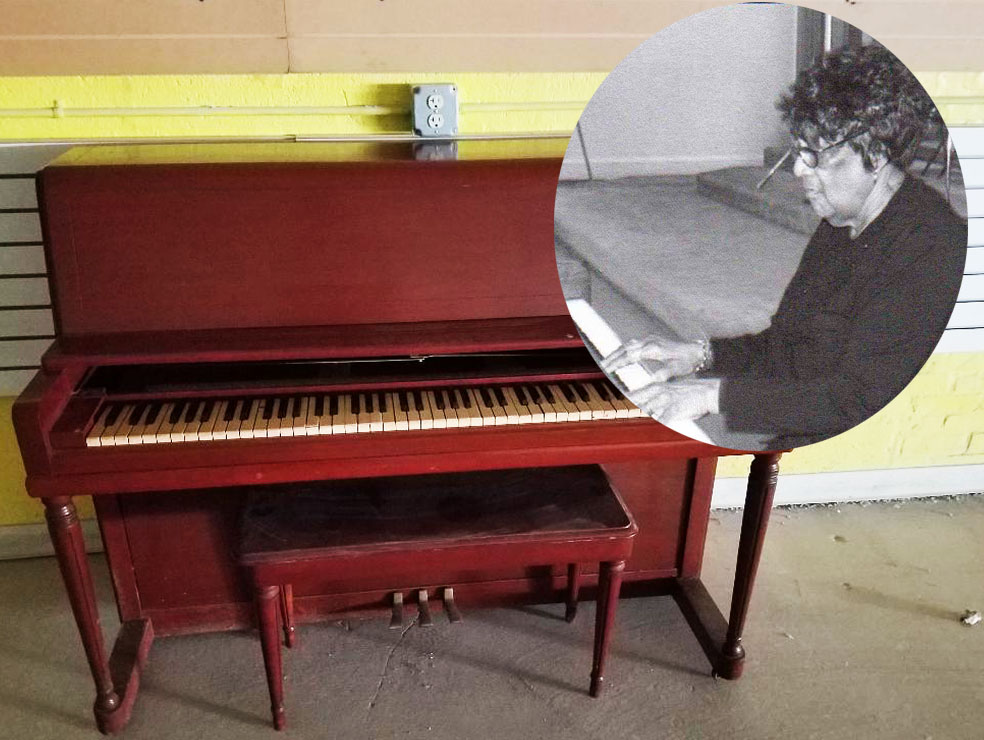 The Asbury Park Museum is proud to announce the acquisition of the piano once belonging to the late Dolores "Dee" Holland. Dolores "Dee" Holland was one of the area's great jazz pianists and organists. Dee was born in Neptune in 1923 into a musical family. There was always a piano in the home and Dee's family would entertain themselves with music every Sunday. Dee's godmother's husband was a classical pianist. As a two-year-old, Dee would listen to him play and play back classical compositions perfectly. As she grew older, Dee's mother would have her perform at school, church and community functions. Dee could listen to a song once and play it back from memory. She did not begin taking formal piano lessons until age seven.
Dee continued as a child pianist, performing in shows and accompanying other vocalists and musicians, primarily in church. As word got around, she began playing popular secular venues. She was hired to play some of the white hotels along the Jersey Shore, including the Berkeley Carteret and the Metropolitan in Asbury Park. At age nine, Dee Holland played piano and danced with a trio. Dee and other black performers could entertain at the beachfront hotels in the 1930's but the audiences were "whites only."
As a teenager, Dee Holland joined Tommy McLeod and the Squires of Rhythm in 1942. She would play with the band until sometime in 1942 when she relocated to Washington DC to work for the federal Government. Returning to Asbury Park in the late 1940's, Dee continued her musical career. There she teamed up with Cliff Johnson to restart the Squires of Rhythm. Over the years Dee would continue to entertain in local clubs, Dee was also the church organist at St. Stephen Zion AME Church and Second Baptist Church in Asbury Park. Dee Holland would continue playing piano and organ until shortly before she passed on November 20, 2020 at the age of 97.
Dee's piano was donated to the Asbury Park Museum by Mary S. Owens Scott. Dee Holland will be remembered as one of Asbury Park's greatest keyboardists and her piano will be a centerpiece in the Asbury Park Museum's music collection.
Collection of 7 hand-drawn 1890's to 1910's area real estate maps from long-time Asbury Park realtor Frederick A. Smith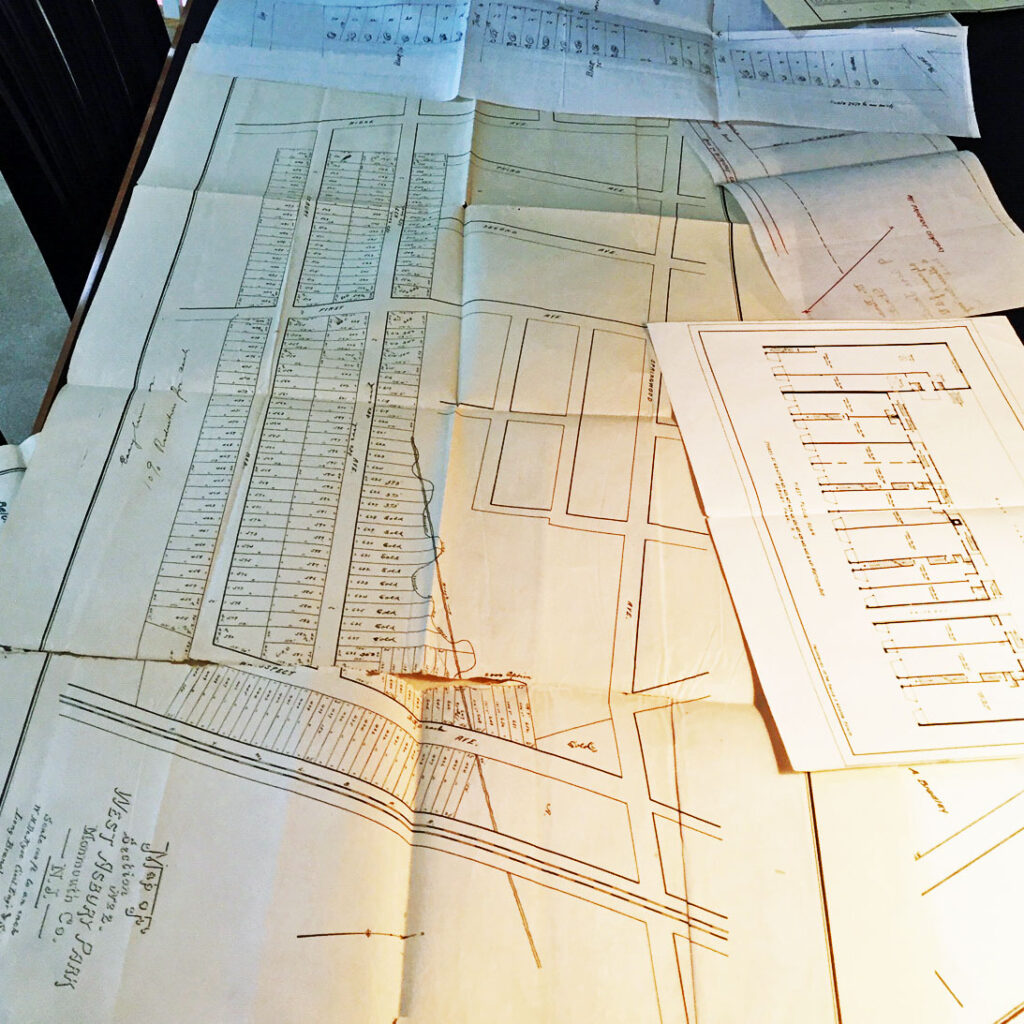 The Asbury Park Museum has just acquired a collection of seven hand-drawn area real estate maps from the collection of long time Asbury Park realtor, Frederick A. Smith. The maps date from the 1890's and 1910's. Maps acquired include store front lots on Cookman and Bangs Avenues, Neptune Township and Monmouth County. One map along Springwood Avenue (low West Lake) west of Ridge Avenue shows large plots of land owned by Asbury Park founder James A. Bradley. Frederick A. Smith founded his real estate firm in Ocean Grove in 1904 along with his partner William J. Osborn. Osborn was the nephew of Ocean Grove's founder. In 1912 they moved the real estate business to Asbury Park. Smith operated the business until he retired in 1971, selling the business at 619 Bangs Avenue. These maps were acquired by Classic Urban Harmony LLC and donated to the Asbury Park Museum.
Gavel from the 1930's Springwood Avenue cabaret, the Blue Bird Cabaret.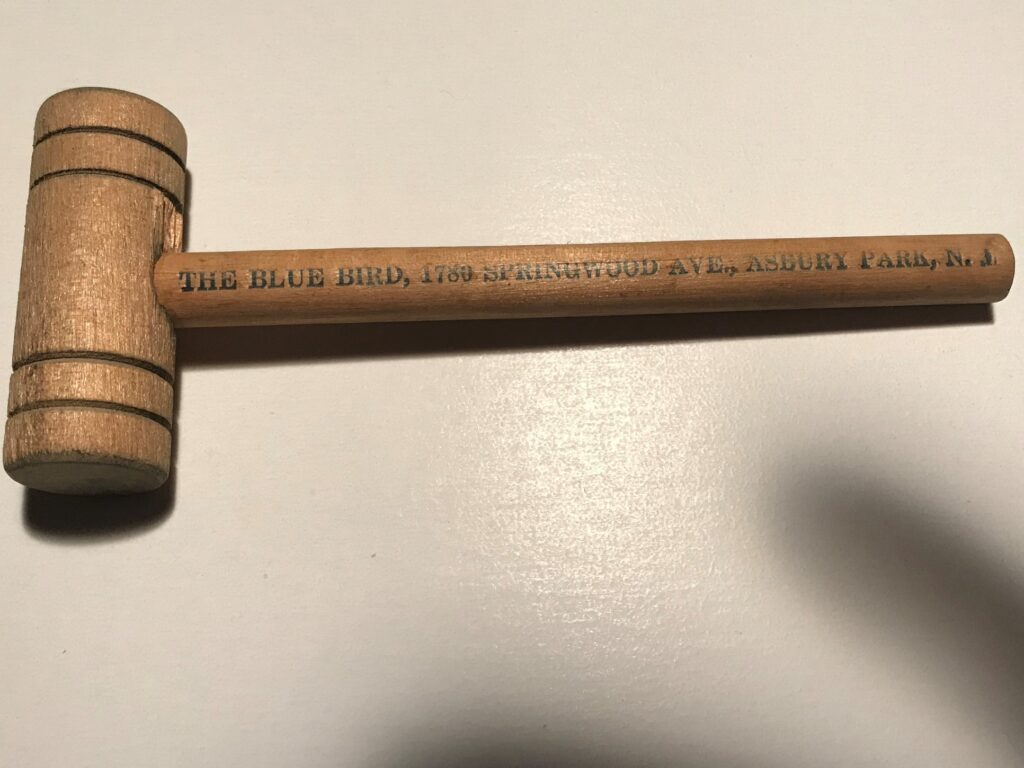 Asbury Park historian, Don Stine, has just offered to donate to the Museum the pictured object from the Old Blue Bird Cabaret, that once stood at 1718 Springwood Avenue in Asbury Park's West Side. The Blue Bird was the last of the West Side's great cabarets and dance halls that featured African American entertainment during the Roaring Twenties and early 1930's. These grand venues that also included Roseland Ballroom and the Smile-A-While Inn operated through the Prohibition Era. They were frequently harassed by Prohibition raids though rarely was any liquor found. They were also frequently targets of arsonists at a time when they were drawing large numbers of white vacationers away from the beachfront establishments.to hear the West Side's "hot" music. What was this mallet or gavel used for? Possibly to bring order to the audience before announcements? We may never know. In the meantime this only surviving artifact from the Old Blue Bird Cabaret will find a home in the Asbury Park Museum. – Charlie Horner
115 Year Old Bottle from George W. Cole's 3-In-One Oil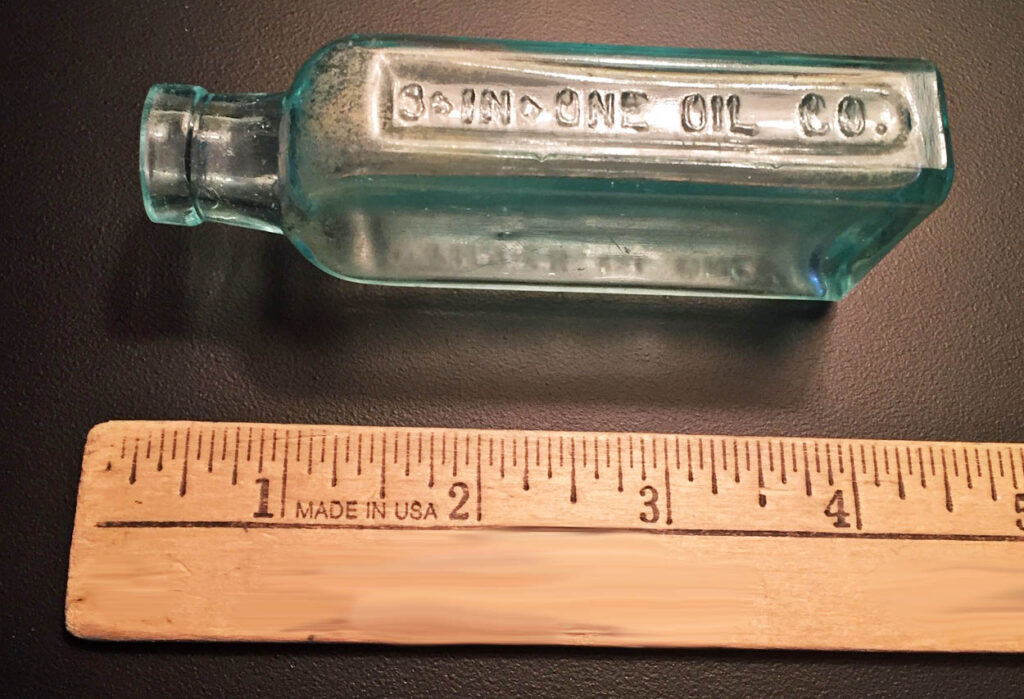 3-in-One, the general-purpose lubricating oil still popular today, was originally formulated in Asbury Park in 1894 by George W. Cole. Cole was an avid bicyclist and member of the 150 member Asbury Park Wheelmen club. Bicycling was all the rage in the 1890's. In fact, the world champion bicycle racer, Arthur "Zimmy" Zimmerman resided in Asbury Park. Cole's interest in bicycling led him to invent 3-in-One oil, named for it's triple ability to "clean, lubricate and protect" bicycle chains and bearings. Cole began manufacturing his product and displayed it at the huge bicycle convention in Madison Square Garden in 1896. By then, Cole's company was headquartered in New York City but the product was manufactured just off of Main Street in West Asbury Park. The product soon took off and found uses across the country for bicycles, typewriters, sewing machines, guns and all fine machinery, as it prevents rust as well as cleans and lubricates. A 1910 church bulletin recommended it for polishing pianos. Coles initially packaged his oil in small corked bottles like the one just acquired by the Asbury Park Museum. This one dates from pre-1910. Business increased so rapidly that in 1902, Coles petitioned the Asbury Park Board of Trade to expand his factory. He was turned down and then moved his manufacturing plant to Rahway, New Jersey. Over the years, 3-in-One has changed ownership several times. It was finally purchase in 1995 by the WD-40 Company who now market the product as "The Tool Kit In A Can." [Artifact donated by the Classic Urban Harmony Archives] – Charlie Horner
1895 Souvenir Ribbon from Tusting Music Store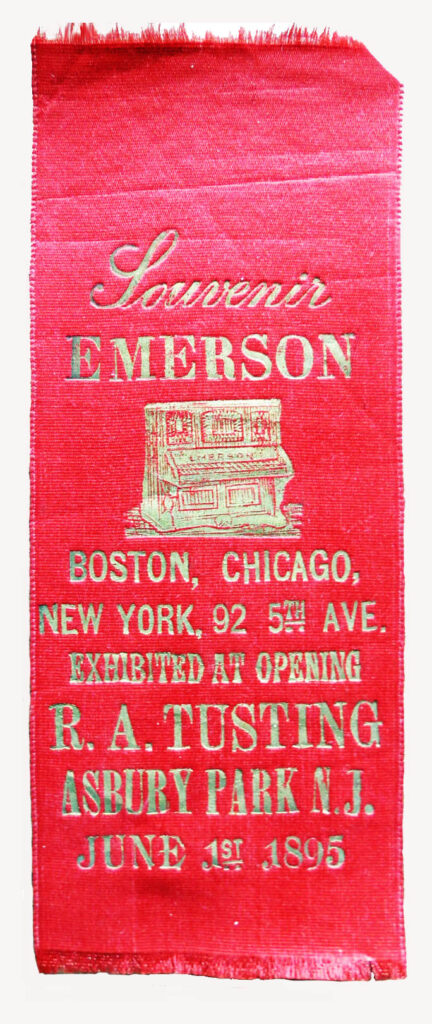 Music has always been vital part of Asbury Park's history. Over the past century and a half, the city has had a number of memorable music stores, but none with a history longer than the Tusting Music Store's 120+ years. Born in Philadelphia in 1860, Robert A, Tusting grew up in Allentown, New Jersey. Trained as an educator and musician, Tusting began teaching piano and was named supervisor of music in the Long Branch school system. In 1883, Tusting purchased William Baldwin's musical instrument store and moved it to Main Street, next to the Asbury Park Post Office. Baldwin had been the first to sell and rent pianos in Asbury Park. At first, piano sales and rentals were slow, so Robert Tusting continued teaching most of the year, opening his store during the summer season. By the 1890's, business was brisk enough that Tusting could more than rely on the store for a living. There he rented and sold musical instruments and sheet music while also giving music lessons. He moved his store to the corner of Mattison Avenue and Bond Street, where he had a large selection of pianos and other instruments. Read more about Robert Tusting click "Music Merchant." To open his store's 13th summer season in 1895, Tusting planned a unique celebration. He secured the Dolge Autoharp Quartette to play while potential customers strolled around his show room. On display were twenty different makes of fine pianos. Every visitor to the store was given a colorful little souvenir, like the one shown above. While it's doubtful that very many of these colorful ribbons have survived the past 126 years, we are proud to add this one, honoring Emerson Pianos, to our Asbury Park Museum collection. Tusting Music Store would survive in Asbury Park until the mid-1990's. [Artifact donated my the Classic Urban Harmony Archives.] – Charlie Horner
What's New?
Here's the latest news related to the Asbury Park Museum.
Asbury Park Museum's next pop-up exhibit, "One Voice Is Not Enough: Asbury Park Musical Diversity" coming in December 2021.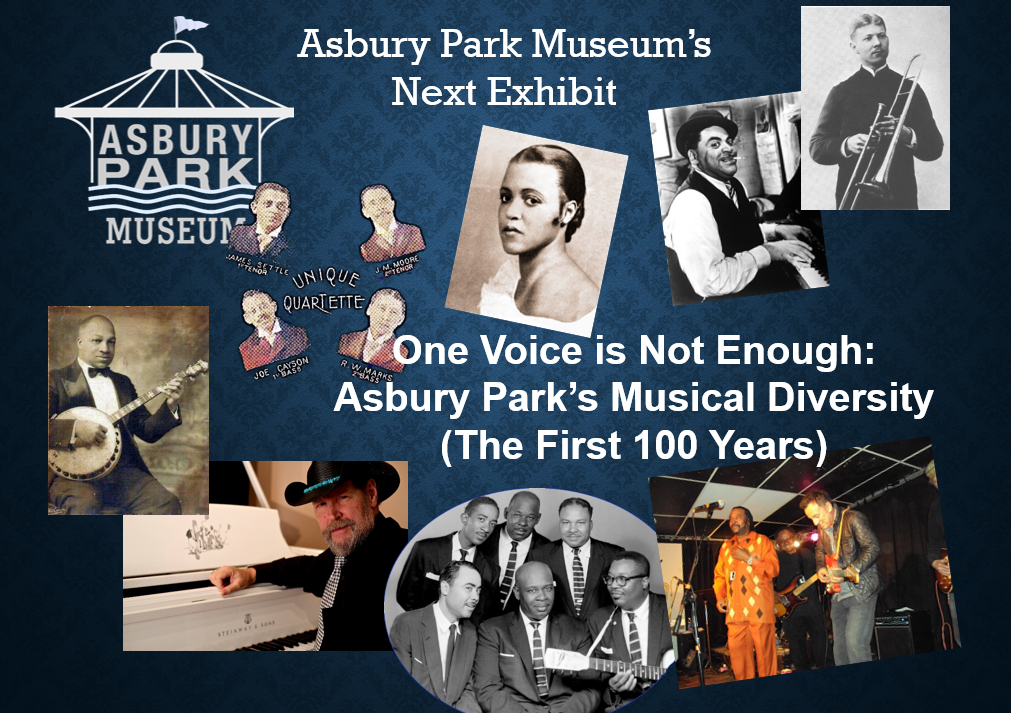 Our next pop-up exhibit in the lobby of the Berkeley Oceanfront Hotel will be "One Voice Is Not Enough: Asbury Park Musical Diversity." It will cover all genres of music from the 1870's to the 1970's, including brass bands, spirituals, stride piano, jazz, blues, big bands, rhythm & blues, doo wop, soul and rock music. It will open early December 2021 and run through May 2022. As with our current exhibit, admission will be free. Our current exhibit will move to Monmouth University.
Asbury Park Museum's Segregated Seashore Pop-Up Exhibit Continues through November 2021.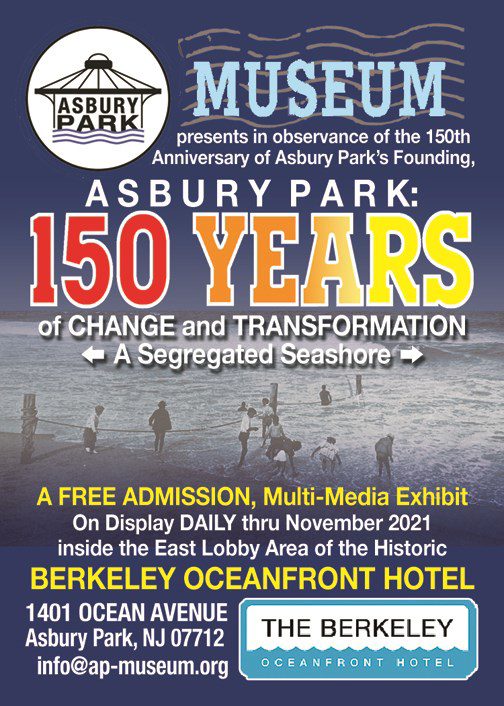 As the summer months near an end, things continue to heat up through the fall and winter in Asbury Park. The Asbury Park Museum invites you to visit a special exhibit on display in the lobby of the Berkeley Oceanfront Hotel. In recognition of the Sesquicentennial Anniversary of the founding of Asbury Park, the AP Museum presents "Asbury Park: 150 Years of Change and Transformation – A Segregated Seashore," funded in part by a Diversity Innovation grant from Monmouth University. It is a multi-media display that explores the dizzying highs and devastating lows of our uniquely American city by the sea through the prism of a diverse community. This first exhibit on display through November is focused on the history of the beachfront and will change every six months.
OPEN EVERY DAY FREE ADMISSION
Riding History's Roller Coaster: The Asbury Park Museum offers a pop-up tour of "A Segregated Seashore"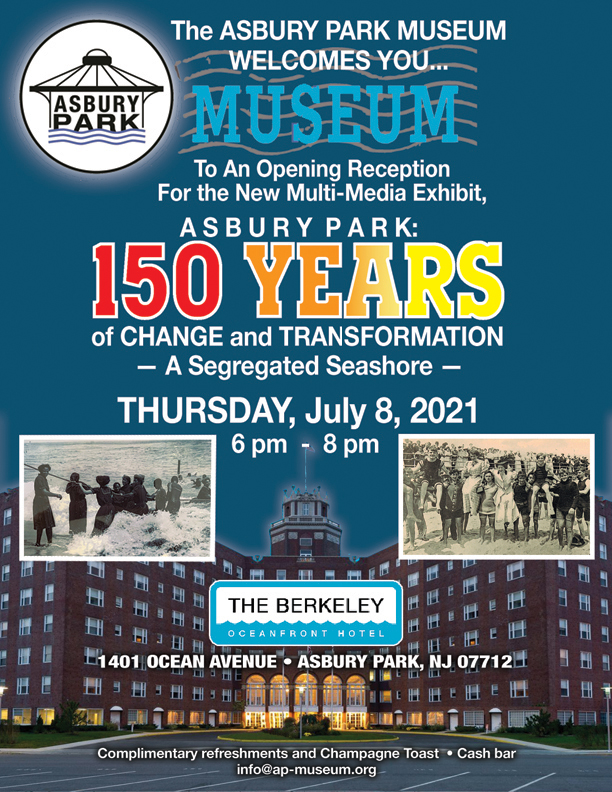 ASBURY PARK, NJ (July 1, 2021) – For the well-to-do vacationers from the cities of Gilded Age America, and the middle class day-trippers of the early Twentieth Century, Asbury Park had it all: celebrated beaches, spectacular pavilions, grand hotels, top-shelf entertainment, shopping and dining experiences for every taste; all illuminated by colorful amusements that would create lasting memories for visitors of all ages.
However, for generations of other Americans, including the many Black residents who helped build the boardwalk landmarks, staff the restaurants, and serve the out-of-town guests, the seaside resort's pleasures remained largely out of reach, due to restrictive Jim Crow policies. These policies endured from the days of Founder James Bradley, until well into the post-WWII era. With the spotlight shining once more upon Asbury Park as it marks the 150th anniversary year of its founding, the Asbury Park Museum unveils an exhibit that offers an unprecedented roller-coaster ride through the often complicated, forever fascinating timeline of the city's waterfront.
Funded in part by a Diversity Innovation grant from Monmouth University, and hosted by the historic Berkeley Oceanfront Hotel, "Asbury Park: 150 Years of Change and Transformation — A Segregated Seashore" is a multi-media display that explores the dizzying highs and the devastating lows of this uniquely American city by the sea. The pop-up is a snapshot of the iconic buildings, memorable cast of characters, signature soundtracks, epic tragedies, natural disasters, and societal sea-changes that threatened its sandcastle dreams; all presented through the prism of a diverse but divided community.
In the words of Asbury Park Museum founder and President Kay Harris, the exhibit is "a journey through time that's an expression of love for this city of summers where so many of us made a year-round home…even if our city didn't always show us love in return."
It's a story told through words, images, and artifacts; one that spans the pious paradise of Bradley's vision, the challenges of the Depression and the wartime home front, the emergence of the "music city," and the remarkable rebirth of a place that seemed all but lost at the end of the last century. The retrospective augments the parallel tracks of the Black and White experiences, by noting the contributions of the Sand Hill Indians, the Jewish and Greek-American business owners of classic boardwalk days, and the LGBTQ community that played such a pivotal role in the city's resurgence.
The "Segregated Seashore" exhibit is on display inside the recently renovated lobby of the Berkeley Hotel, where attendees can also view photo enlargements from the hotel's collection of vintage beach and boardwalk scenes. The exhibit features a set of large-scale panels, a slideshow documentary, antique swimwear and souvenirs from a century and a half of boardwalk-based memories.
A collaboration between the Museum's trustees and advisors — a team of educators, journalists, historians, business owners, nonprofit executives and designers with deep connections to the Asbury Park community — the exhibit is the latest public project for the entity, which made its debut during the winter of 2018-2019. The temporary boardwalk exhibit was a successful venture that attracted thousands of visitors from as far as Europe.
Visit the newly launched Asbury Park Museum website for up-to-date project information, historic vignettes, an exploration of the city through the years, as well as a glimpse of current work and past events, as the Asbury Park Museum continues its work toward establishing a permanent location.
The public is invited to an opening reception from 6 to 8 p.m. on Thursday, July 8 at the Berkeley Oceanfront Hotel, 1401 Ocean Avenue at Sixth Avenue in Asbury Park. Featured at the event will be a sampling of fare from the hotel's new restaurants, as well as a cash bar and complimentary champagne toast.
"Asbury Park: 150 Years of Change and Transformation — A Segregated Seashore" continues on display inside the hotel lobby through year's end, moving to Monmouth University for a limited installation in 2022. More information can be found on the Museum's new website at apmuseum.org, with additional announcements forthcoming on future activities at locations around Asbury Park.
Asbury Park Museum welcomes Tyron McAllister Sr to Board of Directors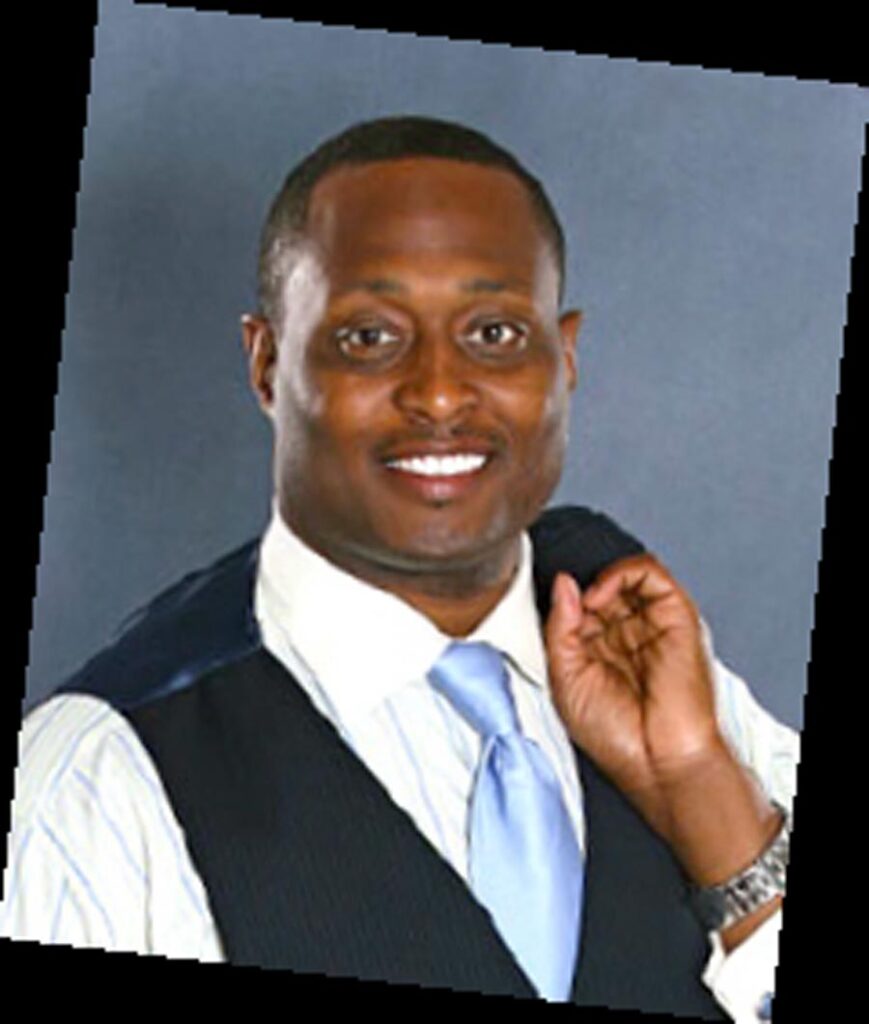 The Asbury Park Museum is proud to welcome Tyron McAllister, Sr. to our Board of Directors. Tyron has deep roots within the Asbury Park community, is an Officer within the Asbury Park Police Community Relations Unit, and is the Minister of Music with "New Life Tabernacle Church" in Asbury Park. Tyron grew up in the low-income housing projects of the Jersey Shore. At the age 16, he received the calling of God to minister His Holy Word. Upon graduating high school,, he received multiple football scholarships allowing him the opportunity to pursue formal education at American International College and Monmouth University, where he studied education and psychology. While attending college he continued to preach the Word of God and expanded his ministry to local radio and television.
Tyron's professional work experience includes seven years in education, serving in elementary, middle, and high schools. He also worked with the New Jersey Juvenile Justice Commission mentoring incarcerated youth. Since 2005, he has been a police officer in the City of Asbury Park. He is currently assigned to the Community Relations Unit where he serves as School Resource Officer (SRO) to the Asbury Park School District. As SRO, Officer McAllister conducts a wide range of programs including the Gang Resistance Education and Training (G.R.E.A.T.) and the Drug Abuse Resistance Education (D.A.R.E.). In the summer months, Officer McAllister continues his outreach to youth and their families through a Summer Boot Camp sponsored by the Police Athletic League and made possible by donations from local businesses.
Officer McAllister proudly instills discipline in our youth and offers them lifelong lessons to achieve success. When not in uniform, Officer McAllister shows his love of the Lord by singing and preaching. He is noted throughout the Asbury Park community as an avid gospel singer. In 2012, he released his first solo CD entitled "FREE." His presentations, workshops, and music ministry have afforded him the opportunity to travel throughout the United States, two U.S. territories and five foreign countries. Recently, he founded a preaching ministry at The Sanctuary, a Christian Family Worship Center. It is in this capacity that he feels he honors God the most.
Album by Asbury Park's Unique Quartette, earliest black vocal group to record, was 2021 GRAMMY Nominee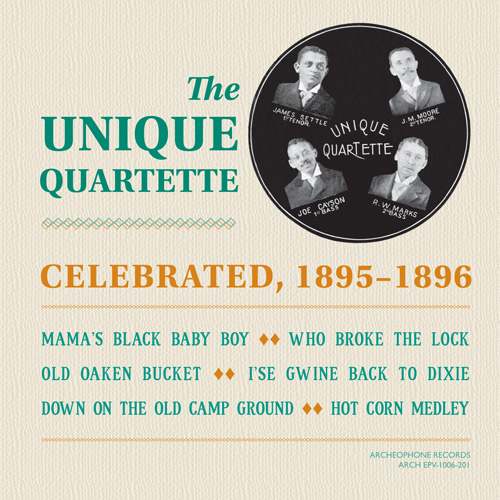 Asbury Park was a mere six years old in 1877 when Thomas Edison first recorded sound at his West Orange, New Jersey laboratories. A dozen years later, early gramophones were still a novelty. Seen only in arcades and hotel lobbies, curious people could pay to have their voices recorded on wax cylinders and listen back through rubber tubes. The first such wax cylinder phonograph machine in Asbury Park was exhibited in the Coleman House Hotel in June, 1889. Coincidentally, members of one of Asbury Park's earliest black vocal quartets, the Unique Quartette, worked at the Coleman House as singing waiters. They'd been singing around Asbury Park as early as 1883. While performing in New York City in December of 1890, the Unique Quartette was hired to wax several commercial songs for the New York Phonograph Company. The Unique Quartette became the first black vocal quartet to do so. Now, Archeophone Records has painstakingly restored six historic 1895 – 1896 wax cylinder recordings by this Asbury Park vocal group. These cylinder recordings are so rare that for many years it was thought that no copies had survived. Archeophone has issued them on a 10-inch vinyl album with a superbly researched liner note booklet and the first ever photo of the group. Archeophone's "The Unique Quartette: Celebrated, 1895-1896" album was nominated for "Best Historical Album" in the 2021 GRAMMY's. Unfortunately it lost out to a sound track compilation from Mr. Rogers TV shows. However, who would have guessed an Asbury Park group's recordings would even be considered for a GRAMMY 125 years after they were recorded. To listen to a 15 minute Podcast on the group from WNYC, click Unique Quartette. The album can be purchased at www.Archeophone.com and will also be available at the Asbury Park Museum gift shop when it opens. – Charlie Horner
We're in the newspaper!
Our thanks to Don Stine, for the fine article about us in the July 9, 2020 issue of the Coaster newspaper. The article tells about our plaque dedication at the Asbury Park house where Fats Waller and Andy Razaf wrote the song, "Honeysuckle Rose, back in 1928. To read the article click the link, "Honeysuckle Rose Written in Asbury Park," The Coaster, Jul 9, 2020