Asbury Park Museum Benefit Concert with Stormin' Norman Seldin & Cavalcade of Stars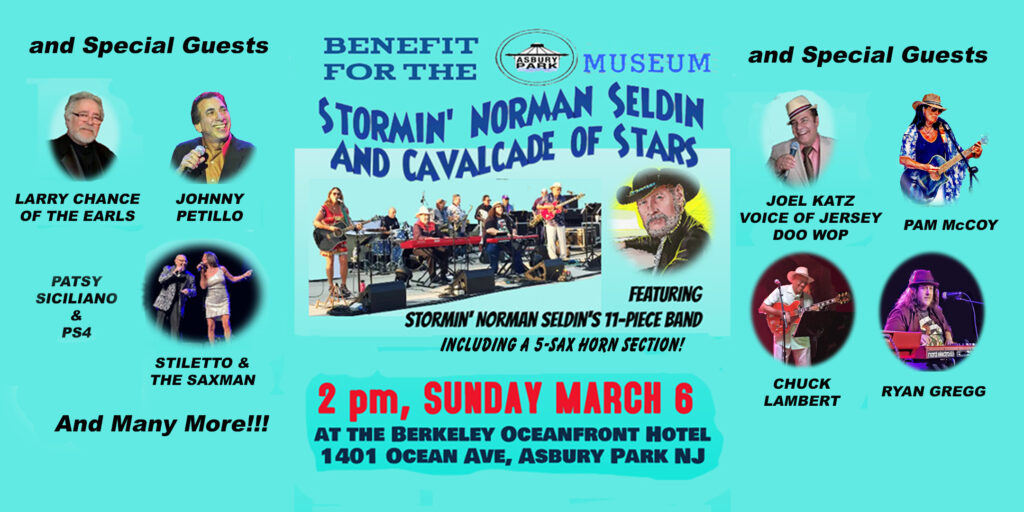 The public is invited to a concert benefiting the Asbury Park Museum that will take place from 2 – 5 PM on Sunday March 6 in the Kingsley Ballroom of the Berkeley Oceanfront Hotel, 1401 Ocean Avenue, Asbury Park, NJ. The event will feature Stormin' Norman Seldin's 11-piece band and a cavalcade of guest stars including Larry Chance of the Earls, Johnny Petillo, Patsy Siciliano & PS4, Joel Katz, Stiletto & the Saxman (Doreen & Joey Arminio), Ryan Gregg, Pam McCoy, Chuck Lambert and many others. It will be emceed by APM board members Charlie & Pamela Horner of Classic Urban Harmony. Tickets are $45 general admission with table seating and a cash bar. A special meet & greet with the stars will take place at 1 PM in the hotel lobby, home of the Asbury Park Museum's pop-up music exhibit, "One Voice is Not Enough." All proceeds from the event will benefit the Asbury Park Museum, a 501c3 non-profit organization and will fund future exhibits.
Tickets are $45 (plus ticketing fees) general admission and can be purchased and printed or loaded to a phone app by clicking the button below.