Upcoming Event: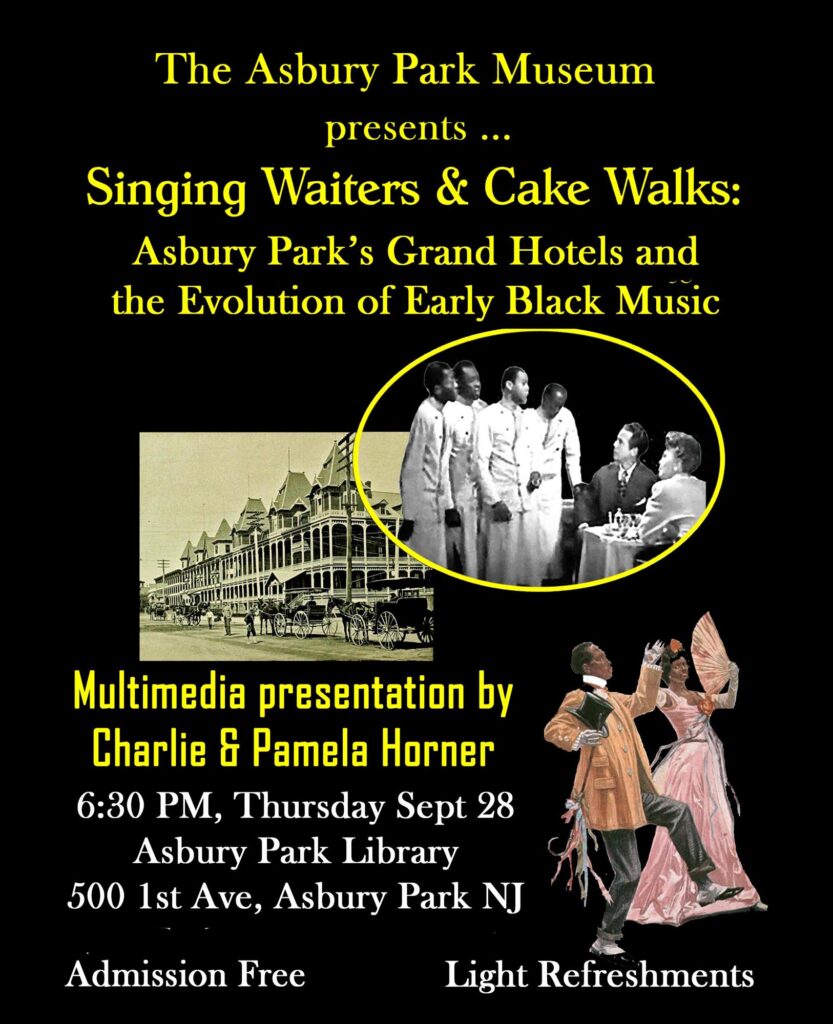 Multimedia presentation: "Singing Waiters & Cake Walks:
Asbury Park's Grand Hotels & the Evolution
of Early Black Music and Dance"
Presented by the Asbury Park Museum's Charlie Horner
When: 6:30 PM, Thursday September 28, 2023
Where: Asbury Park Library, 500 1st Ave, Asbury Park, NJ
Admission: FREE. Light refreshments will be served
Contact: Charlie Horner at [email protected] or Kay Harris at 732-539-7574
SUMMARY: The late 1800s witnessed the beginnings of Black Vaudeville and ragtime music. This led to the birth of jazz, blues and the African American entertainment and recording industry. All forms of commercial Black music were derived from the music of these formative years.
Early Black entertainers faced threats, violence, discrimination, and numerous racial insults. Earning only a fraction of what white entertainers made, even the biggest Black stars took summer jobs, often as hotel waiters. Still, they persevered.
For their noble efforts, early Black entertainers paid a horrible price. To work in the Jim Crow Era, many had to tailor their repertoire and acts to include racially degrading minstrel songs. For this, future generations would discredit them and minimize their contributions. In truth, these trailblazing music pioneers opened the door for all future Black entertainers.
The Asbury Park Museum's Charlie Horner will explore the role of Asbury Park's "whites only" grand hotels in the evolution of late 1800s and early 1900s Black music and dance. You'll hear music clips of Asbury Park hotel employees' wax cylinder recordings – the first banjo and Black vocal quartet recordings ever made. You'll learn how a dance called the Cake Walk grew out of slavery times and paved the way for dances from the Charleston to swing dance. And you'll find out why early mega-stars of Black Broadway chose Asbury Park to refine their shows.
About the Presenter: Charlie Horner, vice president of the Asbury Park Museum, is a world-renowned expert in the history of early Black music. He and Pamela Horner researched and authored the book, "Springwood Avenue Harmony: The Unique Music Legacy of Asbury Park's West Side, Volume 1, 1871 – 1945." They are hoping to have Volume 2, 1946 – 1980 released by the end of this year.
Past Event: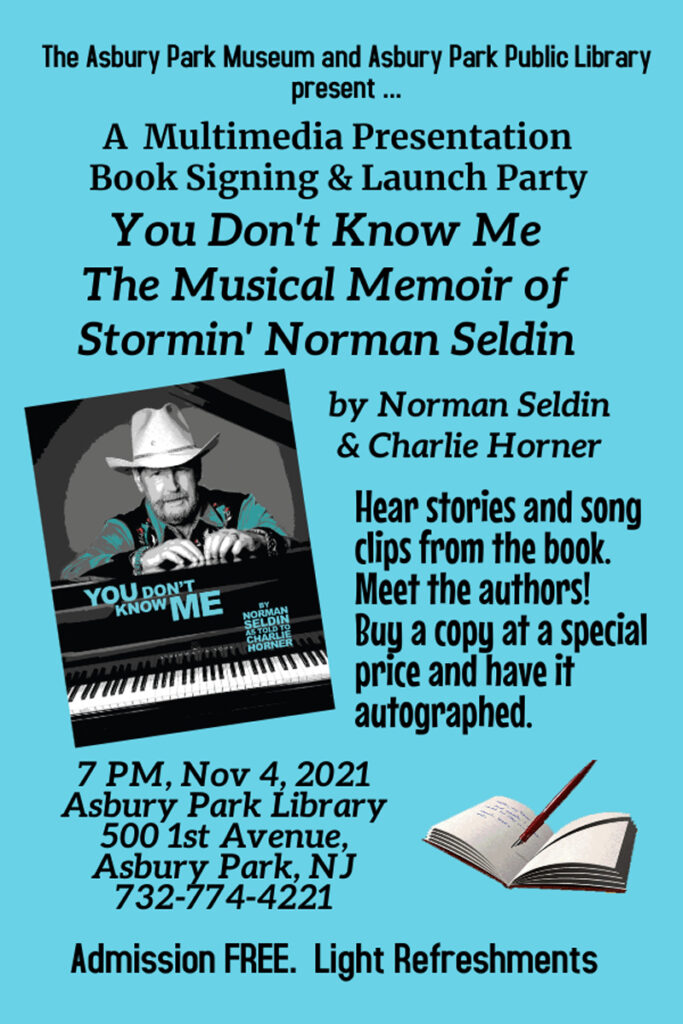 Join us 7 Pm, 2021, Thursday. November 4 at the Asbury Park Library, First and Grand, Asbury Park, for a special multimedia presentation, book signing and book launch party for the new book, "You Don't Know Me: The Musical Memoir of Stormin' Norman Seldin" by Norman Seldin as told to Charlie Horner. The event is sponsored by the Asbury Park Museum and the coauthor Charlie Horner is Vice President of the AP Museum.
The book tells the life story of Norman Seldin, one of the key creators of the "Sound of Asbury Park." This event is FREE to attend and light refreshments will be served.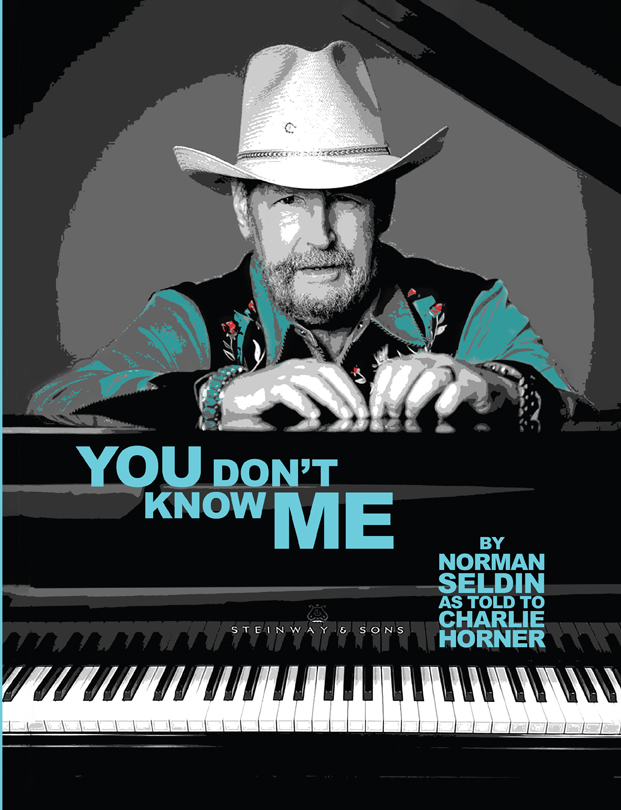 The book is also available in Amazon.com.